Getting the best case studies for Geography
---
It can be a bit overwhelming when it comes to case studies and it's all too easy to bury your head in the sand and go with the ones in the textbook. This guide will help you develop quality case studies in no time at all.
Step 1: Check the syllabus
"Which topics do I need case studies for?" "How many do I need?" "What kind of information do I need?" Don't panic! The syllabus/specification answers all of these questions. Make a list of what you need and move on to the next step.
Step 2: Use Key Materials
Before you start wildly Googling Colombian micro-climates, take a step back. Go on to the exam board website and have a browse through practice exam papers, mark schemes, exemplar answers and examiners' reports. Practice papers and mark schemes will show you which type of questions require case studies, and what type of information you should be looking for. They'll also help you to identify those dreaded 'curveball' questions everyone talks about after the exam. The examiners' reports for geography are brilliant. They explicitly tell you which case studies top students used and how they applied the information to answer each question.
Step 3: Brainstorm
This step will save you heaps of time in the long run. Although the syllabus lays out everything you need to know, it's not all that detailed. For example, the AQA syllabus states:

Two case studies of recent (ideally within the last 30 years) seismic events should be undertaken from contrasting areas of the world. In each case, the following should be examined:
the nature of the seismic hazard;
the impact of the event;
management of the hazard and responses to the event.
So what you'd do here is take those three bullet points and expand on them. Mark schemes will give you a rough idea of what the examiners are looking for. Break the bullet points down and create a mindmap (like the one below) or write a list. You now know, point by point, exactly what to search for.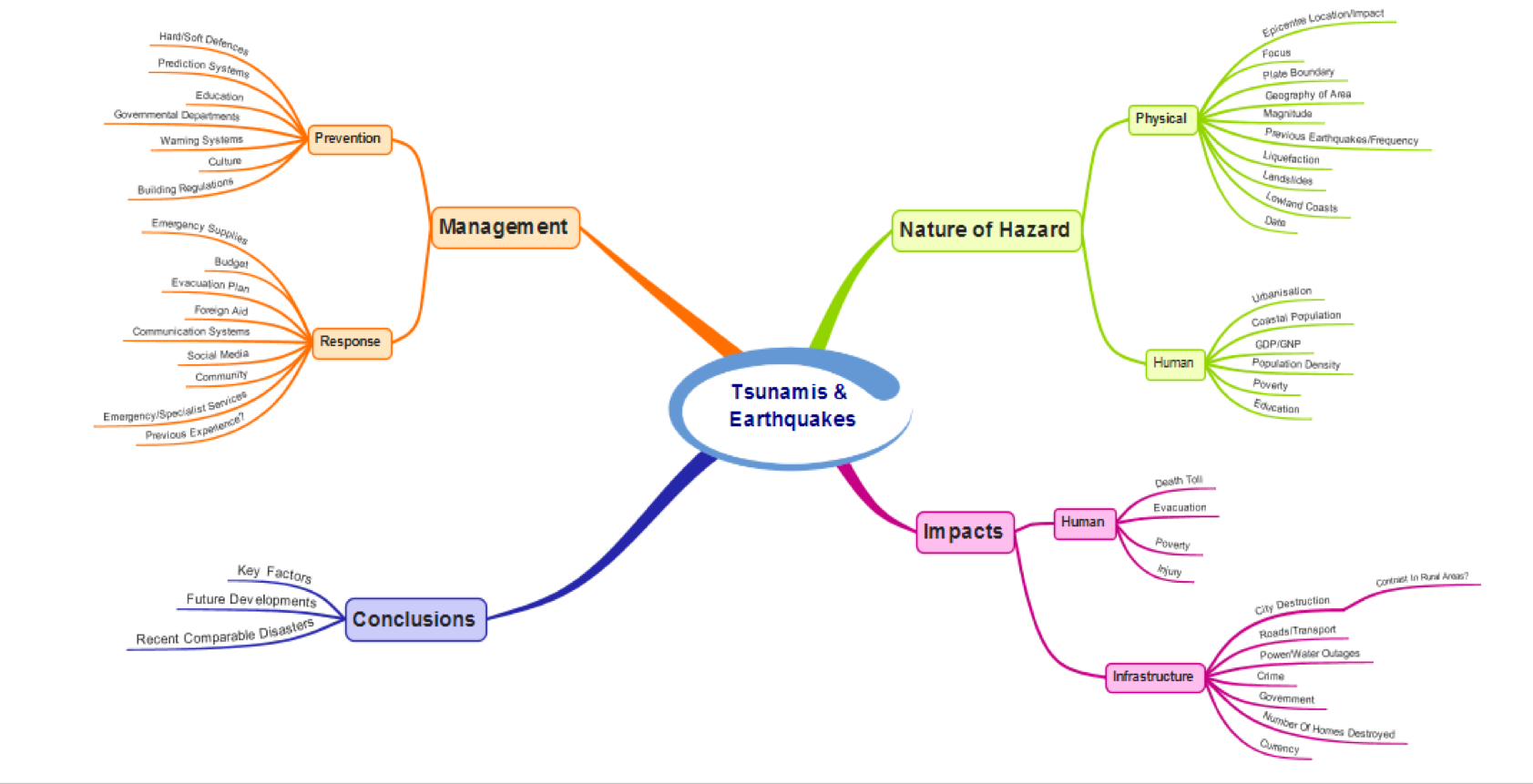 Step 4: Use your Textbooks/Revision Guides
This is just a starting point. If you decide to go with a case study that's in a textbook or revision guide, that's ok. But be aware that even the 5-page-long case studies in textbooks won't contain information on all those points you wrote down. Not only that, but pretty much every other student in the country is going to be using that exact case study. Boring! You need to make sure you can stand out from the crowd.
Step 5: Research
This is the big one. Where possible, find case studies so recent that they can't be in the textbook. It takes the same amount of time to compile a recent and interesting case study as it does to copy one out of the textbook. It's also a lot less boring and will get you a ton of marks!
Google is your best friend here. Try and get information from reputable sources (in other words, Wikipedia's a no go). Find news articles and government websites for facts and figures, and take a look at Google Scholar for opinions; Google Scholar is exactly what you'd think it is – Google for Scholars. Search for 'scholar' on Google, then tap in some key words and you'll find some golden material for your case studies: Quotes from experts.
Work through your mindmap or list in order. When you find information on one of the points, take some notes and tick it off.
Step 6: Go A Little Bit Further
Make sure you have a few smaller case studies in addition to your main ones. I'm not saying you'll need 20 case studies per topic. Just have a few little facts and examples in your arsenal that you could use to compare and contrast with your main case studies in an essay question. It shows the examiner that you've gone the extra mile and have a deeper understanding of the subject.
When you've finished, you'll have a set of totally unique case studies and enough information to ensure that no question catches you off guard.
Step 7: Memorise
Remember that mindmap from earlier? That's your structure. Add the facts, figures and quotes as new branches and you're half way there. Give it to one of your mates and talk them through it whilst drawing your mindmap on a whiteboard. You'll have it memorised in no time.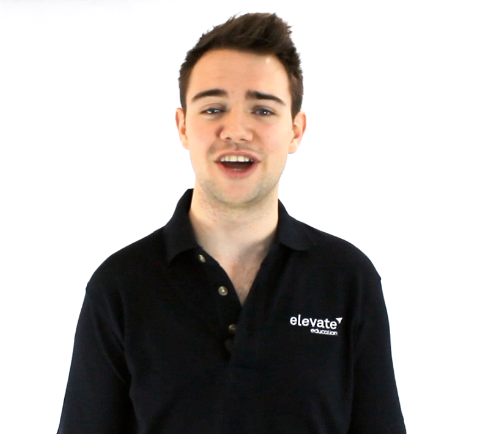 -